Tel: +86 371-67991755
Fax: +86 371-67993277
Sales direct: +86 15838331071
E-mail:sales@battemachinery.com
http://www.extrusionpump.com
24h services
Benefits of rubber extrusion pump
One of the benefits of rubber extrusion pump is the control on temperature. During extrusion, temperature increase due to compound shearing and the applied pressure. By mounting a
rubber extrusion pump
system, pressure is generated at the head, reducing the pressure at the extruder and consequently compound's temperature become lower.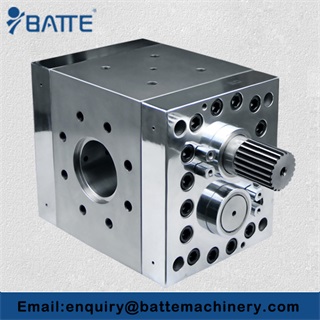 Gear Pump Systems Multiple Benefits Compared To the Regular Extrusion:
1. Precision – Fixed amount of materials is consistently pumped into the strainer , hence there is less rubber waste and variations in product measurements.
2. Wear – if extruder is used, lower pressures are exerted and the wear level on the screw is reduced as well at higher outputs are obtained.
3. Wide range of compounds – Some of the rubber compounds are very sensitive to high temperatures. Gear Pump enables low working temperatures and by that allow use of sensitive elastomer
4. Power Consumption Savings – By means of hydraulic locking clamps, rubber is strained with a minimum energy use due to low pressures.
For the last decade, Rubber gear pump application
is a suitable and advance solution that has been vastly implemented at many compounding lines world-wide.

Relative Articles:
◆Three points need pay attention to prevent melt pump motor burned
◆China hydraulic gear pump for extrusion(RX)
◆Discharge Gear Pumps
◆Booster metering pump(ZB-F)