Tel: +86 371-67991755
Fax: +86 371-67993277
Sales direct: +86 15838331071
E-mail:sales@battemachinery.com
http://www.extrusionpump.com
24h services
Rubber extrusion pump(ZB-R)
Rubber extrusion pump is also named as rubber gear pump or extrusion pump for rubber, the use of friction and shear forces between the rubber and the inner wall of the cylinder, ZB-R series rubber gear pump is an efficient self-cleaning function, compact design, optimized fluid channels.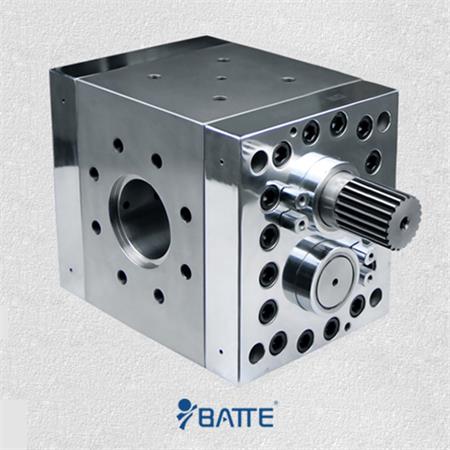 Rubber Gear Pump Technical Parameter:
Melt Pump Body: high temperature tool steel, chromium-nickel steel
Gear: high temperature tool steel, nitrided steel
Sliding Bearing: high temperature tool steel, other material and coating
Shaft Sealing: screw sealing
Heating System: heat medium heating
Cooling mode: Shaft end cooling system

Rubber Gear Pump Operating Parameter:
Volume Range: 50CC - 2500CC
Mooney viscosity: ≤1200 Pas
Working Temperature: ≤130°C
Cleaning Temperature: ≤350°C
Outlet Pressure: ≤70Mpa
Differential Pressure: ≤50Mpa

Rubber Extrusion Pump Characteristics:
1. Screw Extruder (single screw) is the use of friction and shear forces between the rubber and the inner wall of the cylinder, so that the compound softens, while pressurized and extruded through a compound of the constant pressure type extruder . Once the extrusion pressure, the extrusion rate will be reduced.
2. Rubber
extrusion gear pumps
screw, no mechanical pulse generating element of this phenomenon, however, since the friction coefficient of rubber and the barrel wall and between the screw will change (by temperature, physical properties of rubber and operating conditions The factors), so it is easy to change out of the situation.
3. Currently, tires and other special-purpose rubber extrusion process has begun using extrusion gear pumps. It is believed that general-purpose rubber extrusion areas, arc pump will also be widely used.

Rubber Extrusion Pump Advantage:
1. Stable output pressure
2. Improve the quality of products
3. Improve the productivity of extrusion
4. Reduce unit energy consumption

Rubber extrusion pump suitable for butadiene rubber, chloroprene rubber, EPDM, SBR, NBR, hot rubber and other processes.
Batte Machinery Zhengzhou Co.,Ltd is specialized in the production and processing of
extrusion pump manufacturers
.Main business:Extrusion gear pump, Metering gear pump, Rubber gear pump, Chemical gear pump, Melt pump, Gear melt pump, Metering melt pump, Booster melt pump, Circular melt pump, Plastic melt pump, High-viscosity melt pump, Polymer melt pump, High temperature melt pump, Pipeline gear pump, Rubber gear pump,etc.
Relative Articles:
◆Plastic extrusion pump(ZB-B)
◆Polymer extrusion melt pump(ZB-H)
◆Biaxial driver extrusion melt pump
◆Pipeline extrusion melt pump(ZB-D)