Tel: +86 371-67991755
Fax: +86 371-67993277
Sales direct: +86 15838331071
E-mail:sales@battemachinery.com
http://www.extrusionpump.com
24h services
Booster metering pump(ZB-F)
Booster metering pump is used for transportation, pressurization or the metering of the Metering extrusion pump and high viscosity polymer melt pump. Metering extrusion pump for reaction kettle is mainly used for transporting medium or high viscosity melt out of the vacuum reaction kettle. Batte metering pump extruder molten material displacement can be precisely controlled by the speed of the pump.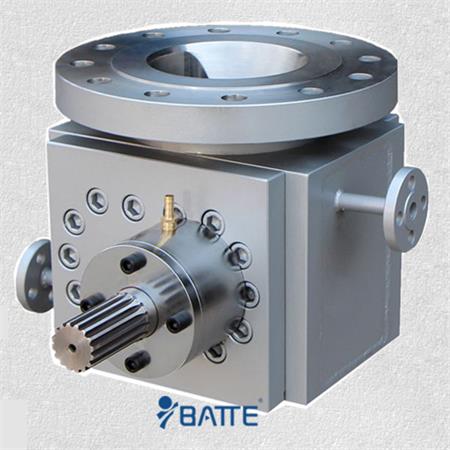 Metering Extrusion PumpTechnical Parameter:
Metering extrusion pump body: stainless steel, carbon steel, hastelloy, monel
Gear: tool steel, nitrided steel, special material and wear-resistant coating
Tooth profile: Straight tooth, Helical tooth, Herringbone tooth
Sliding Bearing: tool steel, Ti-Ta alloy, silver-nickel, special material and wear-resistant coating
Shaft Sealing: mechanical seal, Screw sealing+Packing seal, flushing fluid combined sealing
Heating System: Conduction oil heating, Biphenyl gas
Pump Model

Pump Volume (CC)

Driven Power (kw)

Heating Power (kw)

Working Temperature

Working Pressure

Outlet Pressure: ≤ 40Mpa(6,000psi)

Outlet Differential Pressure: ≤ 275bar
Metering Extrusion Pump For Reaction Kettle Features:
Stabilizing outlet pressure;
Improving the products quality;
Increasing the extrusion output;
Reducing unit energy consumption;
Prolonging the service time of extruder.

Metering Extrusion Pump For Reaction Kettle Applications:
Extrusion pump
for the chemical industry, chemical fiber, petroleum, food industry, biotechnology, pharmaceutical and other industries. Such as: polyester, high-strength polyethylene, rubber, food, medicines, adhesives, polyols, petroleum and other industries. With the development of the machinery industry,
extrusion gear pumps
market is gradually being adopted by the industry, the application.
Relative Articles:
◆Biaxial driver extrusion melt pump
◆Pipeline extrusion melt pump(ZB-D)
◆Rubber extrusion pump(ZB-R)
◆Polymer extrusion melt pump(ZB-H)