Tel: +86 371-67991755
Fax: +86 371-67993277
Sales direct: +86 15838331071
E-mail:sales@battemachinery.com
http://www.extrusionpump.com
24h services
Chemical Extrusion Gear Pump(ZB-W)
Chemical extrusion gear pump is mainly used in conjunction with extruders or kneaders. It reduces the natural pulsation and irregular conveyance,the build up of pressure in the gear pump is more efficient in comparison to the extruder.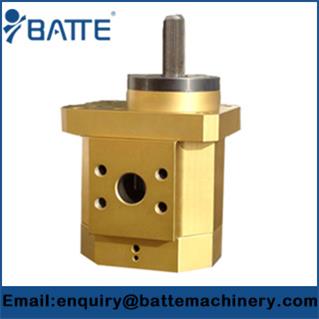 Main role of Chemical Extrusion Gear Pump:
1. Significantly improve the stability of the die pressure, improve product quality;
2. The extrusion pump can achieve near-linear output flow, easy to control;
3. Increase the amount of extrusion, while reducing extruder load, save energy and
ZB-W Chemical Extrusion Gear Pump technical parameter:

Material of Pump Body: 316L Stainless Steel
Material for Pump Gear: 440B Martensitic Stainless Steel
Shaft Sealing: Oil sealing, gasket sealing, screw seal, labyrinth seal, mechanical sealing, packing and spiral packing, combined
Heating Method: Electrical Rod, Conductive Oil or Hot Water Model/Volume Range: 0.5cc to 12000cc, 0.5cm3/rev - 12000cm3/rev
ZB-W Chemical Extrusion Gear Pump operating parameter:

Working Temperature: ≤300℃
Inlet Pressure: vacuum – 1.5MPa
Differential Pressure: ≤120MPa
Chemical extrusion gear pumps are indispensable for the extrusions. Special versions are available for conveying natural rubber and soft PVC. Less energy or heat is transferred into the polymer and the product is conveyed in a gentler manner. Besides ZB-W type chemical pump. RX type China hydraulic gear pump for extrusion is also chemical gear pump.
Relative Articles:
◆The Best Quality Hot Melt Extrusion Pump
◆Extrusion Vacuum Pumps
◆The Extruder Used With Gear Pump
◆Discharge Gear Pumps