Tel: +86 371-67991755
Fax: +86 371-67993277
Sales direct: +86 15838331071
E-mail:sales@battemachinery.com
http://www.extrusionpump.com
24h services
The Best Quality Hot Melt Extrusion Pump
Hot melt extrusion pump is the process of applying heat and pressure to melt a polymer and force it though an orifice in a continuous process.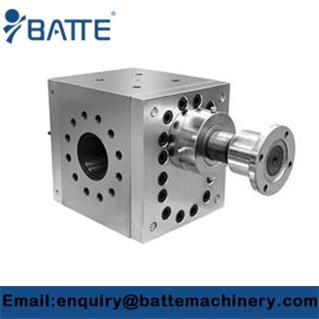 Batte Hot Melt Extrusion Pump Features:
1.Extrusion pump developed to produce polymer products of uniform shape and density.
2.Lower melting temperatures and extends the pump extruder's lifetime.
Batte Hot Melt Extrusion Pump Applications:
1.Extrusion pumps used in chemical fiber, spinning and chemical engineering.
2.Applicable in plastic products including bags, films,sheets, tubes, fibers, foams, the health-care,medical devices.

As a professional extrusion pump manufacturers in china,Batte supply you
the best quality hot melt extrusion pump.And the price will be the most
affordable.
Relative Articles:
◆Hot Melt Gear Pump For Plastic Extrusion Line
◆Polymer Extrusion Gear Pump Transfer Pump
◆Batte Extrusion Pump And Ingersoll Rand Extrusion Pump
◆Hot Melt Pumps For Extrusion Line