Tel: +86 371-67991755
Fax: +86 371-67993277
Sales direct: +86 15838331071
E-mail:sales@battemachinery.com
http://www.extrusionpump.com
24h services
Recycled PET Extrusion Melt Pump
Recycled PET extrusion melt pump allows conversion of recycled PET into pellets, and/or incorporation of recycled PET into end-products,To make a food grade plastic, the bottles need to be hydrolysed down to monomers, which are purified and then re-polymerised to make new PET.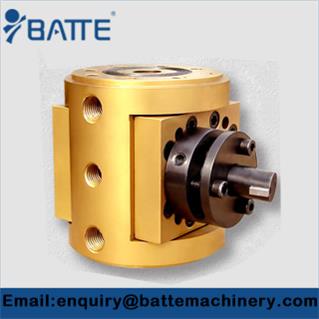 The Main Function Of Recycled PET Extrusion Melt Pump:
1.Extrusion melt pump greatly improve the pressure stability of the extrusion die,improve the quality of the products.
2.The melt floow can realize linear output, easy to control.
4.Decreasing the load, save energy and reduce the cost.
Recycled PET extrusion melt pump eliminated the need to pelletize its scrap before reuse by equipping a line with a self-cleaning screen changer and gear pump. PET is semiporous and absorbs molecules of the food or beverage contained, and the residue is difficult to remove. Heating the plastic enough for sterilization would destroy it.

Relative Articles:
◆Chemical extrusion gear pump
◆Extrusion Vacuum Pumps
◆Extrusion Metering Pump
◆Batte Internal Gear Pump