Tel: +86 371-67991755
Fax: +86 371-67993277
Sales direct: +86 15838331071
E-mail:sales@battemachinery.com
http://www.extrusionpump.com
24h services
Gear pipeline pump
Gear pipeline pump is used for transportation, pressurization or the metering of the high temperature and high viscosity polymer melt of the gear structure.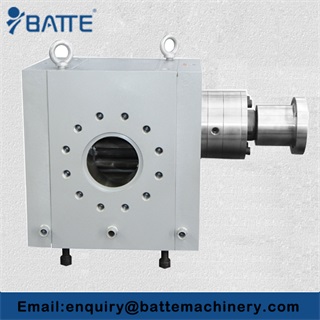 Gear Pipeline Pump Features: 
2. Special surface treatment technology is available.
3. Eliminates pressure fluctuation from the extruder.
4. Increases extruder output.
6. High efficiency and precise melt flow.
Gear Pipeline Pump Advantage:
1. Reducing stress on the extruder by means of shifting the job of building pressure to the melt pump.
2. Increasing the hourly output.
3. Removing the output variations and pressure pulsations, thus greatly improving the product quality.

Relative Articles:
◆External gear pumps
◆Circular melt pump for plastic extruder
◆Extrusion Pump Control System
◆The Extruder Used With Gear Pump