Tel: +86 371-67991755
Fax: +86 371-67993277
Sales direct: +86 15838331071
E-mail:sales@battemachinery.com
http://www.extrusionpump.com
24h services
Extruder Gear Pump
Extruder gear pump more effectively build than the extruder head pressure, and reduce back-pressure extruder screw axial force to bear down and prolong life.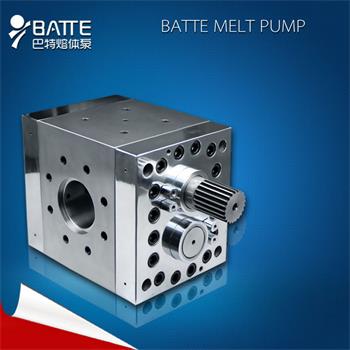 Extruder Gear Pump Details:
Scope of Application: Almost all kinds of melt
Material for Pump Housing: M4 Steel
Gear Tooth:Straight (Optional)
Melt Pump Model:0.1CC-6000CC
Capacity Delivery:0.05-120000L/H
Max. Outlet Pressure: Less than 40MPa
Max. Differential Pressure: 275Bar
Heating Method:Stainless Steel Heating Rod
Sealing Method:Mechanical Sealing (Optional)
Since the installation of the gear pump extruder, the pressure reducing function is transferred to the extrusion pump is completed, the extruder can operate at low pressure and temperature state, the leakage flow is greatly reduced, the yield is improved.
Relative Articles:
◆Volumetric Pumps Extrusion
◆Hot Melt Pumps For Extrusion Line
◆Batte extrusion pump involves much lower shear than normal extruders pump
◆Single Screw Extrusion Gear Pumps