Tel: +86 371-67991755
Fax: +86 371-67993277
Sales direct: +86 15838331071
E-mail:sales@battemachinery.com
http://www.extrusionpump.com
24h services
Biaxial driver extrusion melt pump(RS)
Biaxial driver extrusion melt pump
can effectively enhance the power, stable output, the
extrusion pump
is important to reduce the wear between gears. Also called
double shaft extrusion pump
,Which is driven ZB-R series extended version. The
extrusion melt pump
mainly used for pressurized and stable flow extruder or high viscosity of the polymer delivery.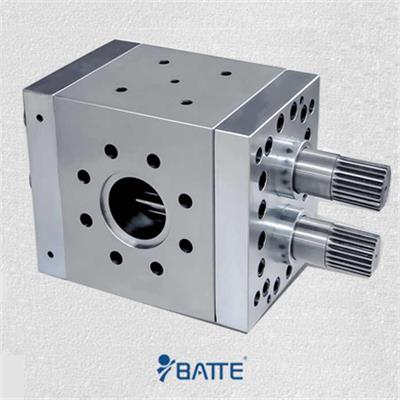 Biaxial Driver Melt Pump Extrusion Technical Parameter:
Theory: positive displacement gear pump
Heating: Electric heating
Pump: high temperature tool steel,
Gear: high temperature tool steel, nitriding steel
Plain bearings: high temperature tool steel
Seal: Spiral sealing, packing
Heating system: electric heating
Specification / flow range: from 0.5CC - 2500CC,
0.5cm3 / rev - 2500cm3 / rev

Double Shaft Extrusion Pump Applications:
Batte double shaft extrusion pump suitables for PS, PP, PET, PVC, PC, PMMA, PA, ABS, PE-LLD and other process.

Double Shaft Extrusion Pump Advantages:
1. The extruded product minimizes dimensional tolerances, the unit weight of material yielding more products. In the extrusion products dimensional tolerances or demanding products more expensive raw material costs, the use of
extrusion pumps
more necessary, more valuable.
2. The co-rotating twin-screw extruder and extrusion pumps synthetic compounding extrusion granulation production line, the mixing quality and yield significantly higher than single twin-screw granulation unit. Energy consumption per kilogram of processed material can generally be reduced by about 25 percent.
3. On the same turned out to be a single-screw or twin-screw pelletizing extruder melt pump installation and pipe, sheet and film extrusion die, the granulation step can be saved directly extruded products. This system is suitable for extrusion products, materials need to go through blending modification of occasions. The melt pump system addition to the first two advantages, it also simplifies the production process by extrusion products, shortening the production cycle to achieve energy savings.
4. can be implemented in multiple small and medium extruders simultaneously to a melt pump feeding, after melt by melt extrusion head pump pressurized metered major products (large diameter pipe, wide plates, film, etc.) . Compact production line structure of this configuration, small footprint; sectional dimensions of the extruded product more accurate and easier to control.
5. Configure the extrusion screw pump in a single-screw vented extruder, can freely operating the system, excellent performance. At high head pressure and high output extrusion rate can be adjusted and must not take the material situation.

Relative Articles:
◆Pipeline extrusion melt pump(ZB-D)
◆Rubber extrusion pump(ZB-R)
◆Plastic extrusion pump(ZB-B)
◆Polymer extrusion melt pump(ZB-H)