Tel: +86 371-67991755
Fax: +86 371-67993277
Sales direct: +86 15838331071
E-mail:sales@battemachinery.com
http://www.extrusionpump.com
24h services
Pressurized Extrusion Melt Pump
Pressurized extrusion melt pump will minimize the extrusion products, reducewaste and scrap rate. Common extrusion machine can produce high precision products.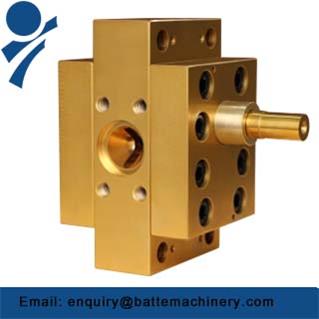 Advantages of Pressurized Extrusion Melt Pump:

1.
Extrusion melt pumps
transports the melt through the moulding tool extremely evenly, ensuring a consistently high-quality end product.
2.Improve the quality of the product dimensions and tolerances.
3.Increase the output, reduce the pressure of the screw melt pump, the screw to die pressing.
Our extrusion pumps have been exported to Singapore, Taiwan, India, Thailand, Korea,
Pakistan, Japan, Indonesia, Malaysia, Philippines, U.A.E, Iran, South Africa, UK,
Germany, Turkey, Slovenia, Italy, Bulgaria, Spain, Argentina, Colombia, Mexico, Peru, USA, Russia, Australia, etc.

Relative Articles:
◆Metering extrusion pump
◆Hot Melt Gear Pump For Plastic Extrusion Line
◆Batte Extrusion Pump And Ingersoll Rand Extrusion Pump
◆Single Screw Extrusion Gear Pumps