Tel: +86 371-67991755
Fax: +86 371-67993277
Sales direct: +86 15838331071
E-mail:sales@battemachinery.com
http://www.extrusionpump.com
24h services
Hot Melt Gear Pump For Plastic Extrusion Line
Hot melt gear pump for plastic extrusion line material heat resistance, abrasion resistance, corrosion resistance, have enough strength and stability. Hot melt gear pump for plastic applied to the extrusion machine and injection molding machine, extrusion efficiency, decreasing the load.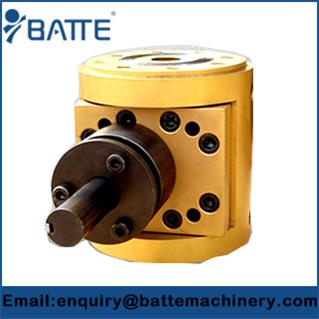 Hot Melt Gear Pump For Plastic Extrusion Line Characteristics:
1. Stabilizing the output pressure---the pressure on extruder can be reduced by 30%-50% after using extrusion pump.
2. improving the product quality
3.Advanced manifacturing process and production technology
4.All are in the line with global standards
5.By long time testing, proved to be excellent
Hot Melt Gear Pump For Plastic Extrusion Line
Specifications:
1. Convenient mounting and maintain,

Relative Articles:
◆Polymer Extrusion Gear Pump Transfer Pump
◆Batte Extrusion Pump And Ingersoll Rand Extrusion Pump
◆Batte Internal Gear Pump
◆Discharge Gear Pumps