Tel: +86 371-67991755
Fax: +86 371-67993277
Sales direct: +86 15838331071
E-mail:sales@battemachinery.com
http://www.extrusionpump.com
24h services
Gear pump cleaning
Gear pump cleaning is importannt because that gear pump screens are typically used to protect the

extrusion melt pumps

from hard contaminants that could jam in the (very) tight clearances and lubrication channels, in addition to their usual functions of keeping contaminants out of the product, and control of mixing in the last zone of the screw pump (tighter screens, more pressure, better mixing).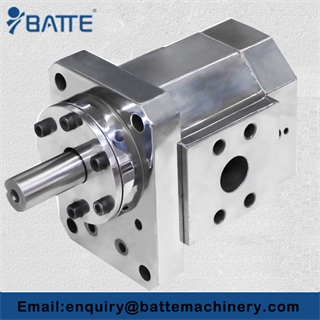 Gear Pump Cleaning Process:
1. Remove the gear pump for extrusion from the equipment, then put it into vacuum heater, increasing the temperature from 400-450℃ (750-850℉), the process of rising temperature should not be less than 2 hours. Give your attention to control temperature, if it is too hot, that will reduce the hardness of pump body and influence the dimension stability.
2. The time for complete carbonized materials is 3 to 12 hours that depends on the material itself, the pump size, heating temperature and load of the heaters. Cooling the pump to room temperature naturally, it's forbidden to cool the pump by force.
3. You can return the pump to us for a complete repair when it is necessary.
The extrusion gear pump screens could be put after the pump, which would take over that pushing job, too, but then they would lose the protective function, so they are kept in their usual position at the end of the screw. In the same time, You must do the gear pump cleaning well to ensure the extrusion pump working well.

Relative Articles:
◆Hydraulic pumps different types
◆Melt pump multifunction device advantages
◆China hydraulic gear pump for extrusion
◆The Details Of Polymer Extrusion Pump
next: