Tel: +86 371-67991755
Fax: +86 371-67993277
Sales direct: +86 15838331071
E-mail:sales@battemachinery.com
http://www.extrusionpump.com
24h services
Extrusion gear pump working principle
In extrusion applications, extrusion gear pump stabilizes the process by generating a constant pressure, ensuring a constant flow of material and relieving the extruder from the pressure build-up task.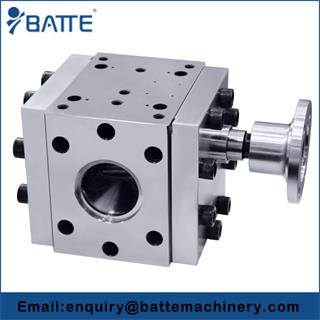 extrusion gear pump working principle:
As the extrusion gear pumps rotate they separate on the intake side of the pump, creating a void and suction which is filled by fluid. The fluid is carried by the gears to the discharge side of the gear pump for extrusion, where the meshing of the gears displaces the fluid. Extrusion gear pump create pressure between a co-rotating twin-screw compounding extruder and die, have previously been either counter-rotating gear pumps or single-screw pumps.
A extrusion gear pump uses the meshing of gears to pump fluid by displacement. Many variations exist, including; helical and herringbone gear sets (instead of spur gears).

Relative Articles:
◆How Does Hydraulic Gear Pump Work
◆Extrusion Pump Control System
◆Polymer Extrusion Gear Pump Transfer Pump
◆Batte Internal Gear Pump