Tel: +86 371-67991755
Fax: +86 371-67993277
Sales direct: +86 15838331071
E-mail:sales@battemachinery.com
http://www.extrusionpump.com
24h services
Polymer plastic extrusion melt pump
The main function of the Polymer plastic extrusion melt pump is to pressurize the high-temperature plastic melt from the extruder, and the flow is steadily fed into the extruder head after the pressure regulation. Its ability to stabilize melt pressure and flow is superior to all types of extruders. When it is used in series with a single screw or co-rotating twin screw extruder, the benefits of the entire production line are significantly increased.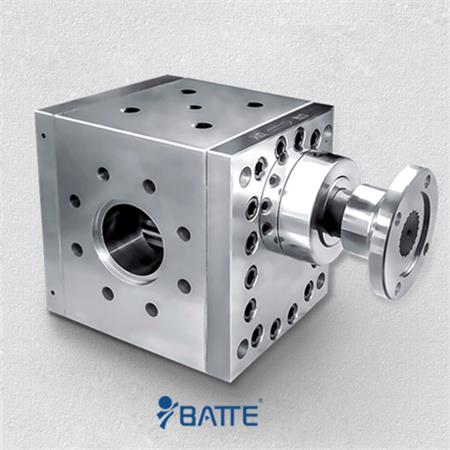 The main benefits of applying a melt pump are:
1. To minimize the dimensional tolerance of the extruded product, make more weight per unit weight of the product. The use of melt pumps is even more necessary and valuable when the dimensional tolerances on the extruded product are critical or the raw material cost of the product is more expensive.
2. The same direction twin-screw extruder and melt pump combination into extrusion extrusion granulation production line, the mixing quality and yield than a single twin-screw granulation unit substantially increased. Energy consumption per kilogram of material can generally be reduced by about 25%.
3. In the original single-screw or twin-screw granulation extruder with a melt pump and pipe, plate, film extruder head, granulation process can be omitted direct extrusion products. This system is ideally suited for blends where the material needs to be blended and modified. The melt pump system, in addition to the above advantages of the second, but also by simplifying the production process of extruded products, shorten the production cycle to achieve energy saving.
4. Can be achieved with more than one small and medium-sized extruder melt feed to the melt pump, melted melt pump pressurized metering supply to the nose out of large products (large diameter pipe, wide board, film, etc.) . This configuration of the production line compact structure, small footprint; extruded product cross-sectional size is more accurate and easy to control.
5. In the single-screw exhaust extruder melt pump configuration, the system can operate freely, excellent performance. In the high head pressure and high yield, the amount of extrusion can be adjusted and no risk of free-take situation.
| | | | | |
| --- | --- | --- | --- | --- |
| Type | CC/Rev | Capacity (L/H) | Heating power (kw) | Driven system (km) |
| | | | | |
| | | | | |
| | | | | |
| | | | | |
| | | | | |
| | | | | |
| | | | | |
| | | | | |
| | | | | |
| | | | | |
| | | | | |
| | | | | |
| | | | | |
| | | | | |
| | | | | |
| | | | | |
| | | | | |
| | | | | |
| | | | | |