Tel: +86 371-67991755
Fax: +86 371-67993277
Sales direct: +86 15838331071
E-mail:sales@battemachinery.com
http://www.extrusionpump.com
24h services
high temperature melt pump
The high temperature melt pump is essential the polyester melt conveying, pressurization and melt metering equipment. The high temperature gear pump that melt pump structure than other types of compact, reliable operation, low energy consumption, high volumetric efficiency, the shearing of the melt is small, stable in hyperviscosity high pressure flow, outlet pressure fluctuations. The pump has a unique advantage and a key role in the process, so that it plays an irreplaceable role in the polyester production.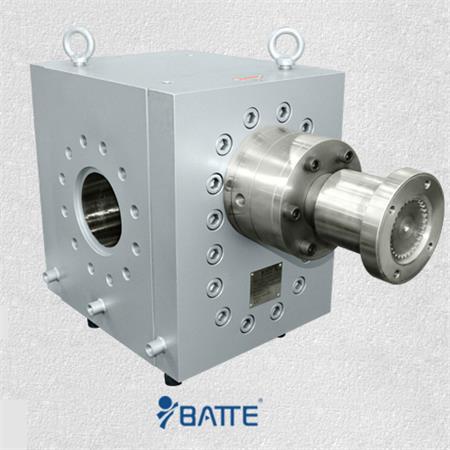 BATTE Melt Pump have a unique positive displacement design which provides consistent, accurate polymer delivery under varying extruder output conditions of pressure, temperature and viscosity. With BATTE Melt Pump providing the pressure between the extruder and the die, extruder parameters can be configured to provide a homogeneous melt at increased throughout and tighter gauge tolerances.
The high temperature melt pump Applications:
The high temperature melt pump are widely used in plastics, resins, rubber and chemical products extrusion. Such as: granulation, film, pipe, plate, sheet, synthetic fibers, fiber optics, medical plastic catheters and other industries.
Type

CC/Rev

Capacity (L/H)

Heating power (kw)

Driven system (km)

Pressure

Temperature

Operating temperature:≤350℃

Clearing temperature:≤450℃