Tel: +86 371-67991755
Fax: +86 371-67993277
Sales direct: +86 15838331071
E-mail:sales@battemachinery.com
http://www.extrusionpump.com
24h services
Gear pump in an extrusion line
Extrusion Melt Pumps, otherwise known as gear pumps, can be useful additions to just about any extrusion line. The technical and econo- mic solution for increasing the performance of extrusion lines.In order to obtain an extruded profile of consistent quality, it is necessary to keep both the extruderoutput and melt viscosity constant. In most cases.Extrusion Principles of the (Single) Screw Rubber Extruder and Gear pump. The single screw equipment in the field of continuous rubber molding.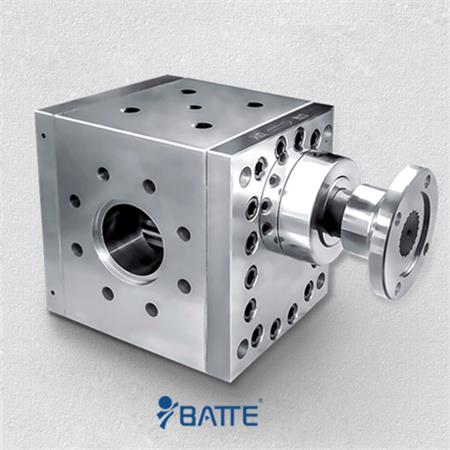 The TEP extrusion gear pump is a reliable positive displacement pump for thermoplastics. It is used to build melt pressure in extrusion lines.The melt pump (or gear pump) is known as an accurate metering device that reduces back pressure and increases output of the complete line.
Gear pumps in combination with screenchangers can produce a number of positive benefits in new blown film lines or as retrofits on existing lines.The BATTE Gear Pump Preformer is a fully automated and highly advanced screw extruder with integral gear pump specifically designed to provide high levels.