Tel: +86 371-67991755
Fax: +86 371-67993277
Sales direct: +86 15838331071
E-mail:sales@battemachinery.com
http://www.extrusionpump.com
24h services
High efficiency melt pump is suitable for industry
Bart high efficiency melt pump is developed and manufactured by our company independently. The whole machine adopts the form of single-axis and three-screw belt to mix material efficiently and quickly. Under the motion of spiral belt of stirring shaft, the inner and outer spiral belt can turn over animal material in a wide range. The inner spiral belt can move material to both sides, and the outer spiral belt can transport material from both sides to inside. Moving, the material is mixed back and forth, and the other part of the material is driven by the spiral belt, moving along the axial and radial direction, thus forming a convective cycle. Because of the agitation of the above motion, the material can be quickly and evenly mixed in a short time.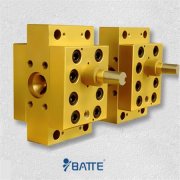 Bart melt pump material is divided into: ordinary carbon steel, stainless steel, high quality stainless steel, titanium alloy, new nickel alloy and other plateau materials.
Melt pump runs smoothly in the plastic industry, has reliable quality, low noise, long service life, easy installation, and has a variety of pump structure, wide use, multi-functional plant equipment.