Tel: +86 371-67991755
Fax: +86 371-67993277
Sales direct: +86 15838331071
E-mail:sales@battemachinery.com
http://www.extrusionpump.com
24h services
How to solve the problem of insufficient flow of melt pump or insufficient outlet pressure
Recently, we have often asked our customers to ask questions like this: how to solve the problem of insufficient flow of melt pump or insufficient export pressure?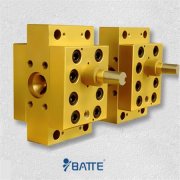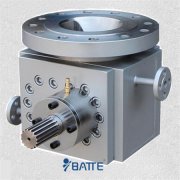 Pipeline pump
(1) reason: insufficient inhalation. Solution: increase liquid level.
(2) cause: leakage of pump body or inlet. Solution: replace gasket, fastening bolt, repair.
(3) reason: medium viscosity is high, solution: reduce medium viscosity.
(4) cause: excessive axial clearance of the gear, solution: adjust the interval.
(5) cause: gear radial clearance or side clearance too large, the solution: replace the pump shell or gear.
(6) reason: inlet valve opening is not enough. Solution: increase valve opening.